A sail roof tailored to your requirements and personal aesthetics as well as functionalities to meet your needs, is the ultimate goal we aim to achieve. Our designs are tailored to your wishes and requirements, which makes each design unique. A canopy offers more living space and an attractive area which is protected from the sun, where you can comfortably enjoy all things the outdoors offers. Enjoy your breakfast in the sunshine in the morning or dine in the evening in the shade. While still having the possibility to barbecue when a summer shower is predicted.
The stormproof design of a sail roof allows you to decide when to be outside, regardless of the weather. And if for whatever reason, you want to remove the canvas, this can be achieved within a time frame of ten minutes, without the help of others.
Key features of this product are as follows:
- UV and wind protection;
- Possibility to hang the sail parallel to the ground, without any slope,
- Possibility to shade the entire space between the beams,
- Protection against falling leaves
- A shade zone - created for You and Your family in your favourite spot,
- It can be cleaned with a sponge or Karcher-type machines,
- Prestigious and modern design, high resistance to external factors - rain, wind, UV radiation, humidity;
- Easy and quick assembly and disassembly.
SAIL ROOF 1
SAIL ROOF 2
SAIL ROOF 3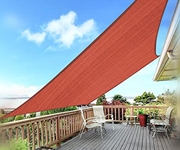 Liên lạc
Email: info@hasakeplay.com.vn
Điện thoại:
VP Hồ Chí Minh: +84 283.931.9092
VP Hà Nội: +84. 243.201.9196